Not the Best Option Lavasoft Ad-Aware Pro Review
ADVERTISEMENT
Lavasoft Ad-Aware Pro brings in its latest version with a newly revamped interface, which most users will find refreshing and easy to use. At the same time, the resources required to run the software have been reduced, and the program performs relatively well in the background. More importantly, the new version has a more powerful firewall than ever, which will certainly help in its performance rating.
After more careful evaluation though, users will quickly discover that the protection offered by these new features is simply not up to par with other programs of a similar price. In fact, the malware cleanup and overall performance of the program are rather poor. For a truly impartial comparison to be made about any antivirus software, the program must be looked at from three different perspectives: price, protection and service.
Price     
With the odd MSRP of $36.00, Lavasoft Ad-Aware Pro is not the most expensive option out there, but it is certainly pricy. For the features included within the software, this is not an unreasonable price, but the performance brings value into question.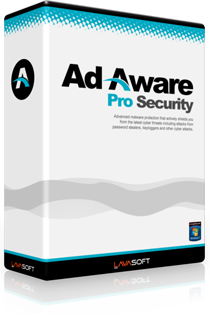 Protection
ADVERTISEMENT
Protection isn't awful, but it certainly leaves much to be desired. For actual detection, the paid version performs no better than the free one, and that is definitely not something to write home about. Of course, the real weakness is not in detection, as the program will detect most of the threats. Instead, the real issue lies in preventing these threats from harming the computer. More importantly, once a system is infected, Ad-Aware shows that it has a very difficult time at eliminating the threat and cleaning the system.
Service
With a streamlined and easier to follow interface, the program ranks decently in the service department. It also includes a firewall, which works well, but under serious stress, it could definitely give out. Additionally, Lavasoft throws in a browser safety toolbar and the program is very light on resources overall. Most importantly, technical support is available, but not to the level that you might find in more robust antivirus software.
Overall Impression
When it comes down to it, Lavasoft Ad-Aware Pro is overpriced and in most cases underperforms. The phishing protection is subpar, most of the time performing worse than that already built into the web browser. Its included browser safety toolbar usually won't help much either and it simply fails to block or clean many of the most dangerous threats. The only real redeeming quality is the firewall, but a direct attack on this will also show that it has its limits.
Overall, the best bet for those on a budget is to save a few bucks and find a less expensive software option. For those who want something more robust, throw in a few more dollars and buy one of the bigger name's latest software. Always keep in mind that features are good, but the key thing for any antivirus software is that it protects against malware. In the case of Ad-Aware Pro, it simply fails to protect much too often.
ADVERTISEMENT