Comparing Malwarebytes Anti-Exploit Free and Premium – Is It Worth the Cost?
ADVERTISEMENT
Advances in computer technology mean an unfortunate but understandable advance in viruses and malware. In addition to the more typical attacks, there is now a greater risk than ever that people will fall victim to what is called a "zero-day" attack. Regular virus protection is certainly still necessary, but with the constant threats that modern computers come in contact with, having software such as Malwarebytes Anti-Exploit can go a long way to keep your computer information safe.
When a zero-day attack does occur, no antivirus software is going to be able to stop it for the simple reason that this is the first case of the virus being recorded. Programs such as Malwarebytes Anti-Exploit allow you to stop these viruses even before they are discovered, which can help you browse more safely. Naturally, as with any antivirus, it is important for people to examine three separate factors prior to purchasing this type of program: cost, effectiveness and extra features.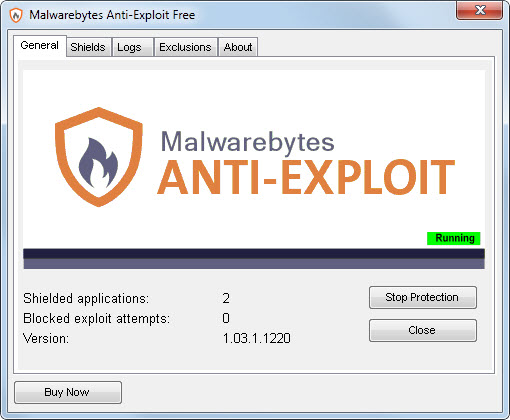 The Free Version
By itself the free version is extremely content rich. In independent testing, it was shown to work quite well at defending against potential threats. Since it costs absolutely nothing, the price is definitely right. Furthermore, the exceptional performance makes it a very effective product to use. Other than basic web integration for preventing these attacks, there are no extra features.
When combined with a normal antivirus program, Anti-Exploit can go a long way to ensure that your system remains safe and secure. Furthermore, the program itself is extremely small, which means it puts a minimum strain on your system, a quality that is definitely one to look forward to. If you want to ensure that your system remains secure from attack, this could be the extra program that you need to add to your system.
The Premium Version
ADVERTISEMENT
The premium version has all of the free features and adds in extra program support, namely for Microsoft Office documents and pdfs. More importantly, it adds in a feature that allows you to create custom shields for any program that you wish to use. Overall, this can be a very helpful feature to ensuring that your system remains secure against any zero-day attack.
Of course, the premium version will cost you $24.95 per year, which could be a little more than you want to spend, especially if you pay for a premium security suite already. With this in mind, there is some question whether it is really worth the money, but the extra program protection could come in handy. It certainly does bring up the question of whether or not it is worth the cost.
Is It Worth It?
For many normal computer users, it may be better to simply stick with the free version of this software. The web is where you will encounter most zero-day attacks, especially if you do not normally deal with exchanging outside documents. Either way, it is important that you install one of these programs if you hope to keep your information as secure as possible.
On the other hand, those who have stricter security needs should definitely look into getting the premium version. Large businesses that already utilize full security suites often think that they do not need this additional protection, but the reality is that zero-day threats are becoming more and more of an issue for these companies.
Ultimately, it comes down to whether you feel that your other programs are in need of this extra security or if the Internet is the only place that it is likely to originate on your system. Bottom line, most individuals will do fine with the free version, but businesses should definitely consider getting the paid version to make sure that its files remain as secure as possible.
Move Forward Right Away
Regardless of which version you decide to go with, having a zero-day antivirus program is absolutely necessary in today's world. As such, it makes sense to add this type of program to your protection strategy before it is too late. Just as you would not leave your money out in the open and unprotected, you must take the same precautions with your computer data. Take the time to install this type of software, and ultimately you will be glad that you did.
ADVERTISEMENT